Máte rádi spoilery? Tak to je pro vás tento článek to pravé. Datamineři totiž vytáhli ze hry obrovské množství dialogů a monologů, které mnohdy poukazují na velmi zajímavé dějové linky! Ty se týkají především přijetí nových ras do řad Aliance a Hordy a mapují příběhové pozadí, v rámci něhož ke spojenectvím dojde.
Jelikož je textů obrovské množsví, bylo by překládání do češtiny velmi časově náročné. U dialogů s důležitým příběhovým dopadem proto připojuji krátké shrnutí ve smyslu "o čem je řeč". A pokud byste si u některých konkrétních promluv nebyli jisti, co znamenají, neváhejte se zeptat v komentářích, ráda vám je přeložím.
Další dialogy naleznete na WoWheadu.
Rozcestník
Turalyon a Alleria, Magni Bronzebeard, Sylvanas, Lor'themar Theron, Grand Magister Rommath, Baine Bloodhoof, Khadgar, Anduin, Nathanos, Mathias Shaw, Chief Telemancer Oculeth
Mix všeho možného. Některé promluvy zde jsou obtížněji pochopitelné, protože chybí reakce ostatních NPC, která jsou v dané situaci přítomna. Hodně těchto situací je ale rozepsaných v částech věnovaných jednotlivým spřáteleným rasám.
V podstatě jen úvodní rozhovor vůdčích osobností Hordy, které se domlouvají, které spřátelené rasy by se mohly připojit k Hordě a proč.
Alleria se dává dohromady s Void elfy.
Alleriina návštěva Silvermoonu, která nedopadne dobře. Tyto dialogy jsou (v mírně odlišné a detailnější podobě) rovněž v části věnované Nightborne.
Spojenectví Lightforged s Aliancí.
Alleria a Thalyssra navštěvují společně s Lor'themarem a dalšími Sluneční studnu. Alleria omylem způsobí, že se Sluneční studnu pokusí napadnout síly Prázdnoty (Void). Nebezpečí se podaří zažehnat, ale krvaví elfové už nadále nechtějí s Allerií nic mít. Zato Thalyssra a Nightborne jsou přijati do řad Hordy.
Na Mulgore si dělají zálusk síly Starých bohů. Jmenovitě jejich služebník, který se kdysi snažil dobýt Highmountain. Highmountain taureni pomáhají hrozbu zažehnat a přidávají se k Hordě.
Uuna (non-combat pet)
Příběhově významná NPC
Turalyon a Alleria
Turalyon s Allerií si prohlíží své pamětní sochy v Údolí hrdinů (Valley of Heroes). Alleria se rozhoduje k návštěvě své domoviny a tomu, že si konečně musí promluvit se Sylvanas.
Různé Alleriiny promluvy (pravděpodobně po klikání na její NPC)
Turalyon
Turalyon přichází do Stormwindu, setkává se s Anduinem, hovoří o tom, že Lightforged draeneiové jsou nyní Alianci k dispozici.
Magni Bronzebeard
Magni stále slyší volání Azerothu, které je čím dál hlasitější a zoufalejší. Magni neví, co si počít. Říká, že "přichází bouře" a že musíme rychle přijít na to, jak Azeroth vyléčit.
Lor'themar Theron
Lor'themar se setkává s Allerií. Vyčítá jí, že přichází na žádost Anduina Wrynna, ne proto, že by se jí stýskalo po domově. Bez velkého nadšení poukazuje na její spojitost s Prázdnotou.
Společně s Allerií a Thalyssrou navštěvují Sluneční studnu.
Z neznámého důvodu dojde k jakési "nehodě" a následné hádce, Lor'themar podotýká, že Alleriina přítomnost představuje pro Quel'Thalas nebezpečí. Řekne jí, ať si jde zpátky do Stormwindu, že Quel'Thalas už není její domov. Zato však přátelsky hovoří s Thalyssrou a vítá ji v Silvermoonu.
Druhá část textu jsou pravděpdobně reakce na klikání na jeho NPC.
Sylvanas Windrunner
Nejspíš promluvy po kliknutí na její NPC. Zajímavá je především ta, kde říká, že životní síla Azerothu patří Hordě.
Grand Magister Rommath
Promluvy po kliknutí. Z některých je patrné, že Rommath zjevně ten den snídal chytrou kaši. (Khadgarovy vtípky mají vážnou konkurenci.) Osobně jsem si okamžitě zamilovala jeho hlášku "Kdybyste se všichni radši řídili mými radami, místo abyste se pořád snažili myslet sami za sebe, Azeroth by na tom byl o moc lépe."
Rovněž hovoří o nebezpečí, které představuje Prázdnota pro Sunwell. Viz spor mezi Lor'themarem a Allerií, který bude rozebrán dále. Také říká "Stráže, chopte se toho sabotéra!" a "Něco se snaží otevřít si portál do komnaty. Pokud se to dostane skrz, může se stát, že přijdeme o Sluneční studnu."
Baine Bloodhoof
Zmiňuje, že Mulgore i Thunderbluff zamořili služebníci Starých bohů. Ujišťuje, že se jich zbaví. Další zajímavá promluva je "Neuvědomil jsem si, že jsem na hodování v Thunder Bluffu pozval draka. Kdybych to byl tušil, připravil bych větší stůl." Z dalších promluv vyplývá, že jde o Spiritwalker Ebonhorna z kmene Highmountain, který je ve skutečnosti černý drak.
Khadgar
Nehodlá se zapojovat do války Aliance a Hordy. Místo toho se vydá do Karazhanu, aby se poradil s knihami a zápisky Medivha. Doufá, že v nich nalezne odpověď na to, jak vyléčit Azeroth.
Anduin Wrynn
Přijímá pomoc Lightforged draeneiů od Turalyona. Má menší obavy z Void elfů, ale nemá s nimi problém, dokud budou sekat latinu.
Zajímavé promluvy: "Horda se nezastaví před ničím, aby pro sebe získala životní sílu Azerothu."
"Lady Windrunner, prosím, zahajte pátrání po své vypovězené příbuzné/vypovězeném příbuzném (?)."
Nathanos Blightcaller
Mluví o tom, že Gallywix zahájil nějaké operace v Silithu.
Mathias Shaw
SI:7 podle všeho dohlíží na dění v Silithu.
Chief Telemancer Oculeth

Rozhovor na ambasádě Hordy
Jednotliví vůdci Hordy vysvětlují Sylvanas, proč ta která spřátelená rasa (Nightborne, Highmountain taureni) může být přínosem pro Hordu.

Void elfové
Magister Umbric
Je součástí dějové linky Allerie Windrunner a Void elfů. Nejspíš společně s Allerií navštíví Silvermoon. Očividně si moc nepadl do noty s Rommathem (Rommath o něm ve svých promluvách rovněž hovoří). Mmj. říká následující: "Nejvyšší magistr musí pochopit, že tato síla je pro obranu Silvermoonu zcela zásadní. Sin'dorei už nikdy žádný nepřítel nepokoří!" Jeho experimenty, ať už jde o cokoli, se však nedaří.
Zajímá se o Dar'Khana Drathira, chce získat nějaký jeho výzkum, který podle všeho nějak souvisí s Prázdnotou.
Alleria a Void elfové
Nether Prince Durzaan
Bytost Prázdnoty. Snaží se zlákat Allerii na svoji stranu. Má zájem o sílu Sluneční studny.
Obecné povídání
Heritage armor
Připojení k Alianci

Lightforged
Obecné povídání
Úkol
Heritage armor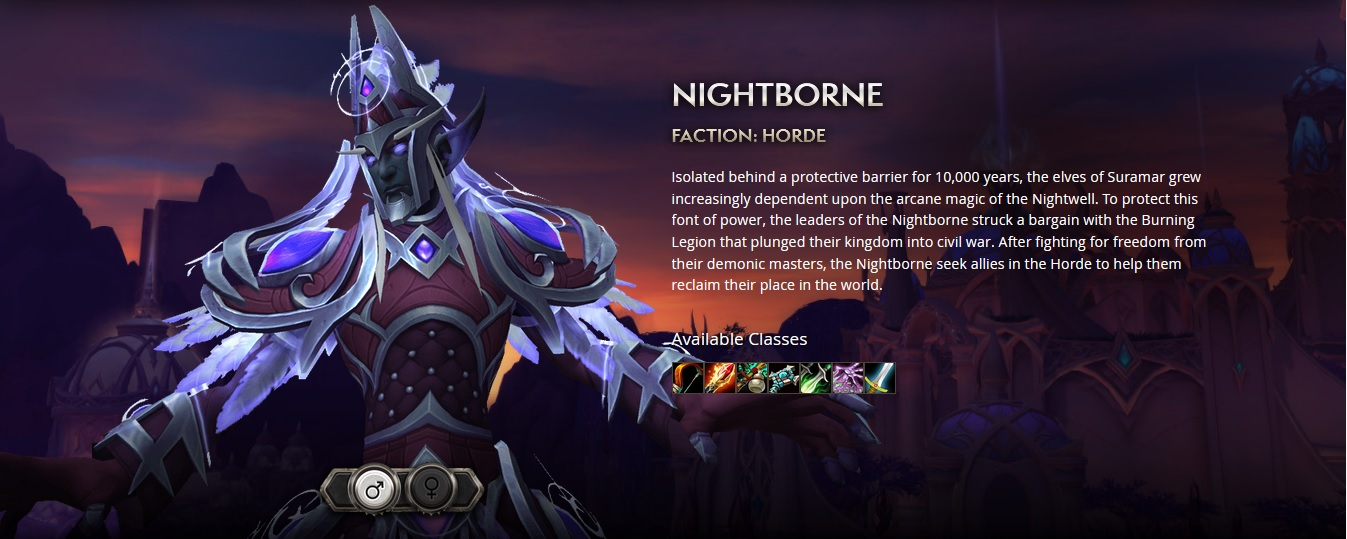 Nightborne
Obecné povídání
Liadrin a First Arcanist Thalyssra
Společná návštěva Silvermoonu, počátek spolupráce mezi Hordou a Nightborne.
Návštěva Sluneční studny
Lor'themar, Alleria, Liadrin a Thalyssra společně navštěvují Sluneční studnu. Velká část rozhovoru už byla zmíněna u Lor'themara, zde jsou však detaily navíc.
Alleria si přeje navštívit Sluneční studnu. Rommath je proti. Lor'themar to neochotně povoluje. Alleria (podle všeho opravdu omylem) způsobí něco, co u krvavých elfů vyvolá velkou nevoli. Sluneční studnu nejspíš nějak naruší síly Prázdnoty. Thalyssra volá své společníky, aby Lor'themarovi pomohli Studnu očistit.
Pokračování událostí u Sluneční studny
Síly Prázdnoty se snaží prodrat k Sluneční studně. Alleria se snaží napravit, co (nejspíš) způsobila. Thalyssra chce rovněž pomoci. Nebezpečí je nakonec zažehnáno, Lor'themar děkuje Thalyssře za její nedocenitelnou pomoc a dohodnou se na spojenectví Nightborne a Hordy. Allerii posílá Lor'themar pryč, aby už nemohla Sluneční studnu ohrozit.
Sylvanas a Thalyssra
Suramarský dialog
Spojenectví s Hordou
Heritage armor

Highmountain taureni
Hostina v Thunder Bluffu
Bitva o Thunder Bluff
Síly Starých bohů/Prázdnoty napadnou Thunder Bluff.
V Highmountain
Mayla a Spiritwalker Ebonhorn
Taureni se snaží zjistit, o co silám Starých bohů jde. Jejich služebník Uul'gyneth se prý kdysi snažil dobýt Highmountain, ale Huln Highmountain vymyslel plán, díky kterému Uul'gynetha uvěznil. Ten se však nyní vrací.
Uul'gyneth
Zažehnání hrozby
Spojenectví s Hordou
Obecné povídání
Heritage armor
Uuna
Uuna je non-combat pet. Jde o ducha draeneiského dítěte, které bylo zavražděné na Argu. Such sad, very wow. Připravte si řádnou zásobu kapesníčků.
Co vás z dialogů nejvíce zaujalo?
Chcete si povídat o World of Warcraft? Připojte se na náš
Discord
. Rádi vás uvidíme.